Item
背もたれがナイスな高さの回転イス Swivel chairs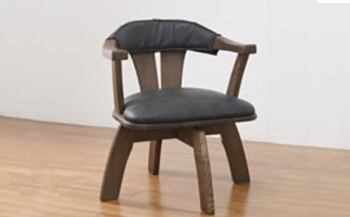 サイズ:W570×D570×H670(SH410)
主材:タモ材 トップコート仕上げ/座面ソフトレザー(黒)
(Ash wood&Soft leather)

タモの木を使って作った回転式のチェアーです。
高さを少し低めにして作っています。色は落ち着いた雰囲気のブラウンで仕上げています。座面の高さを少し低めにおつくりしているのでゆっくりおくつろぎ頂けます。

It is a rotary chair that was made using the wood of the ash.
The height has been made by a little lower. The color has been finished with a brown of calm atmosphere. You can relax slowly because the height of the seat surface are Otsukuri slightly lower.